Belarusian cuisine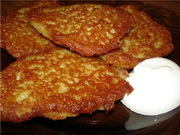 One of the main features of the Neman land cuisine is a wide use of potatoes – our second bread.



One will rarely taste a dish without potatoes. Independent dishes are cooked of potato. It is served as garnish. Boiled potatoes, mashed potatoes, potato pancakes (draniki) are everyday dishes. Patty-cakes with different fillings, potato babka, etc. are made of potatoes. Potato is an indispensable component of various salads. It is often served with one more favorite product – mushrooms.

The Belarusians often eat meat as well: beef, veal, game & especially pork & lard. Fried lard is used as seasoning for various floury & potato dishes. Sausages, cutlets & «meat in jelly» are cooked of fresh pork.

Apart from potatoes, the Belarusians use other products when cooking a first course: vegetables, cereals, mushrooms, milk, etc.

Differently prepared mushrooms are also served as an independent dish.

Besides, the Belarusians like various egg dishes, oatmeal & pastry.

To prepare jelly & compote national cookery widely uses berries & fruit.

Recipes: Draniki
Grate raw potatoes, add wheat flour, salt & soda, mix it, fry pancakes using vegetable oil. Serve it with butter or sour-cream.


Potatoes – 400 g, wheat flour – 5 g, vegetable oil – 10 g, soda – 1 g, butter – 10 g or sour-cream – 40 g.

Yield with butter – 250 g, with sour-cream – 280 g.